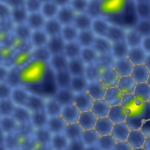 Title: ACRITAS – Actuation and Characterisation at the Single Bond Limit
Funding Agency: Marie Curie Initial Training Network (FP7, European Union).
Duration: January 2012 – September 2016.
Principal Investigator: Rubén Pérez.
Description:
ACRITAS integrates world-leading expertise in scanning probe microscopy (STM, AFM) across national, disciplinary, and sectoral boundaries, providing essential training in research methods which underpin a vast amount of state-of-the-art nanoscience and associated R&D in both the public and private sectors. The scientific theme at the core of the ACRITAS research programme – measurement and manipulation at the single bond limit – is rapidly becoming a signature characteristic of nanoscience, (bio)nanotechnology, and associated spin-off technologies. Our SPMTH research group at UAM collaborates with experimental groups in two topics: (i) Atomic scale characterization of defects in carbon nanostructures with STM/AFM and (ii) Probing the electrical characteristics of individual point defects and molecules on insulating thin films with Kelvin Probe Force Microscopy.
Read more on the SPMTH's web site: www.uam.es/spmth