Dear Users: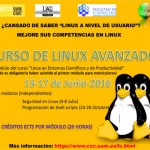 It is a pleasure to announce the second module of the second edition of the course Linux on Scientific and Production Environment entitled: Linux Advanced.
These courses are taught on the premises of the CCC-UAM initiative of the Faculty of Sciences within the framework of continuous training plans. Please note that all modules are independent.
For more information please visit the CCC's website.